Annual Events
We organize various seasonal school events, which supports exciting ways to learn Japanese. It is also a good way to see different sides of Japanese society cheerfully, and it can contribute to healing your mental as well as your physical health from daily stress.
Arrive in Japan/Entrance Ceremony

Sports Day

Field Work

/EJU

JLPT/Tanabata

/Debate Competition

Admissions Information Month

Admissions Information Month

End of term examination/Speech Contest

Picnic

/Entrance Ceremony (Students that start in October)

EJU

JLPT/Christmas

End of term examination/Kakizome (Japanese calligraphy)

Setsubun (End of winter festival)/Tea Ceremony

Setsubun
(End of winter festival)

Drama Performance

/Graduation bus tour

/Graduation Ceremony
Japanese Cultural Experience
Learning a language can not be achieved without understanding "culture." In order to understand Japanese Culture and the quality of Japanese Language learning, we will organize various seasonal school events. By experiencing new activities on your own, you can make learning a cheerful event and finally learn the ways of living life in Japanese society.
Entrance Ceremony
Field Work (1st year, Disaster Prevention Center)
Tanabata
Christmas
Kakizome (Japanese calligraphy)
Tea Ceremony
Graduation Ceremony
Entrance Ceremony
Expressing one's determination to take the first step towards the future, with high expectations through a new life in a foreign land.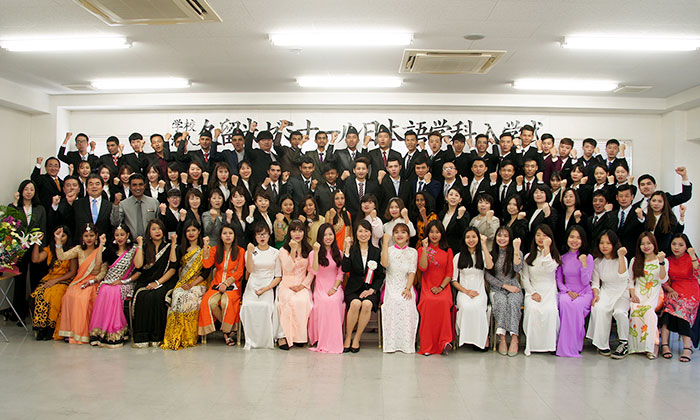 Field Work ( 1st year, Disaster Prevention Center)
We must always be conscious of real life problems. Especially for those studying in Japan for the first time, it is said that Japan has many earthquakes and other disasters, therefore we need to acquire knowledge on what to do during a natural disaster and learn to deal with them when such incidents occur.
Tanabata
Learn the story of Tanabata which is originally from China. People write their wishes on strips of paper. In your 2nd year, you can experience Japanese culture through the experience of wearing a Japanese Yukata.
Christmas
On the last day of classes before winter vacation, the students plan a big party and invite the teachers to join. Each class creates a unique performance for everyone to enjoy. These parties have created some of the most memorable moments.
Kakizome (Japanese calligraphy)
In January, it is the start of the new year, and you can experience the first calligraphy of the year. The event is known as "Kakizome" which dates back to ancient times.. Students can write messages about their New Year's ambitions using the Kanji they have learned.
Tea Ceremony
Tea Ceremony Experience. One aspect of Japanese culture is the ceremony where you learn to "pour tea for others with all your heart". Learn how to pour tea, express proper manners, and study the culture of respect and harmony while enjoying tea.
Graduation Ceremony
The final majestic ceremony with all the graduates and enrolled students. The undergraduate students will be able to celebrate the great moments with the senior students. From that moment forward, the seniors will spread their wings while entering a new stage in their lives.
Presentations in Japanese Language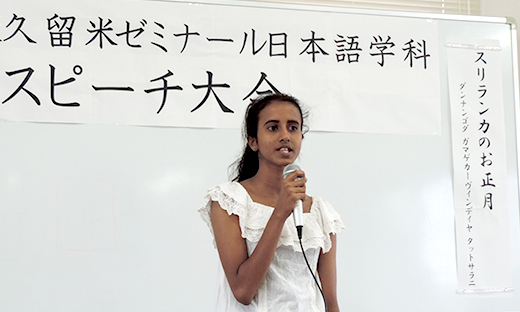 For a foreign student, learning the Japanese language is a great skill that can be used for an entire lifetime. We aim and make efforts in our classes to make the material "understandable" and "applicable". We set up the events for students to show the skills they have learned, which will provide them the opportunity to realize their own capabilities.
Speech Contest
Debate Competition
Drama Performance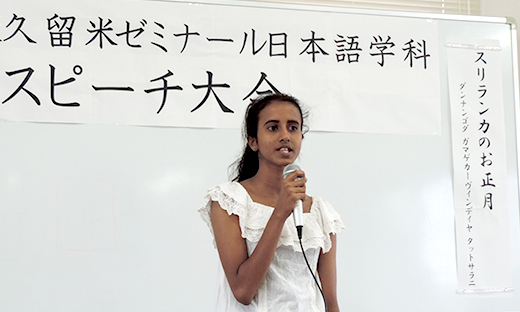 Speech Contest
Using the Japanese language skills learned in the classes as well as daily living, the students can show their creativity by making their own original dramatic performances. The performance themes contain many different issues ranging from familiar ones to serious social issues. After many hours of practice, students show their talents to their peers and teachers.
Debate Competition
This class is open for the 2nd year students who want to improve on expressing their own ideas logically with other passionate individuals. Practice will be held in each class and in the end, representatives will compete against their peers in an actual competition. Students will enjoy creative thinking in addition to learning new Japanese language skills through passionate arguments and discussions in a friendly matter.
Drama Performance
Students create a Japanese drama by cooperating with other classmates.
Individuals will learn to put their differences aside and improve their team working skills.
In the process everyone will create an original emotional show filled with laughter and touching moments.
Friendships and Cultural Exchange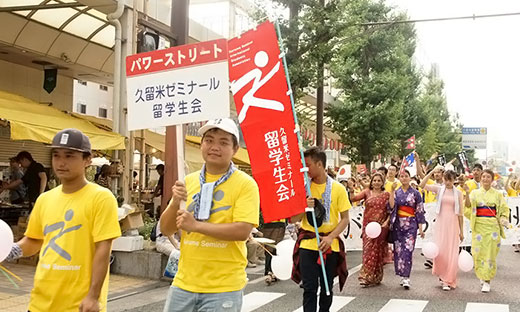 For the students from different countries, friendships and cultural exchanges with other international classmates will help make learning together a wonderful experience. Such peer support is necessary for one's motivation towards learning. Basic conversations in Japanese, and carrying out activities together with other students will lead to the development of new friendships. All of these activities can only benefit one's physical and mental strength for learning new information.
Kurume Azalea March
Sports Day
Mizu no Saiten, The Water Festival of Kurume
Picnic (Mountain climbing / hike)
Graduation bus tour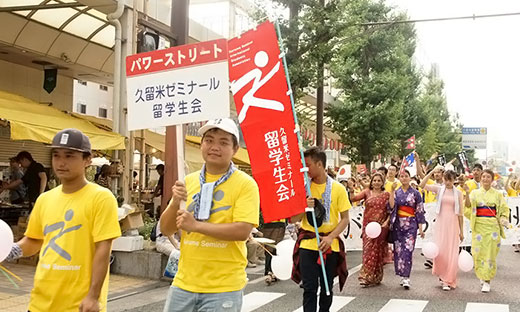 Kurume Azalea March
The new students arriving in Kurume will participate in a walking tour around the local area. Students will walk around on a sightseeing tour of Kurume city and see the beautifully blooming Azalea flowers.
Sports Day
Sweat thoroughly under the blue skies and compete against the other classes. The class relay race is one of the most exciting portions of the event. Regardless of one's home country, the whole class will be united as one and both the participants of the competitions as well as the team cheerleaders will show off their team spirit and support each of their classmates.
Mizu no Saiten, The Water Festival of Kurume
You can have the chance to participate in the biggest summer festival of Kurume city. The event is known as "Mizu no Saiten." Here you have the opportunity to meet other citizens of the city. You can enjoy wonderful summer memories here while watching the biggest fireworks festival in Western Japan.
Picnic (Mountain climbing / hike)
Mountain climbing will be held at nearby Koura mountain. You can see the view of beautiful Kurume city from the top of the mountain. All the 1st year and 2nd year students will go for a hike together.
Graduation bus tour
A bus tour will be organized before the senior's graduation ceremony. It is a journey designed to make memorable moments with the other classmates and teachers. For students leaving Kyushu, it is also the last chance to get to know Kyushu better.
Admissions Information Month
In order to achieve one's goal of "employment" in Japan or your own country, the key point necessary to remember is how you plan your "Future Study Plans." Goals cannot be achieved unless you advance further on to universities with good job placements. Kurume Seminar will set up special time periods to concentrate and think about each student's future plans. Students can gain a lot of information about their further studies and get some firm career guidance for their decisions through information seminars within the school, as well as a chance to visit other educational facilities and experience various classes.