Messages from graduates
NGUYEN BA QUAN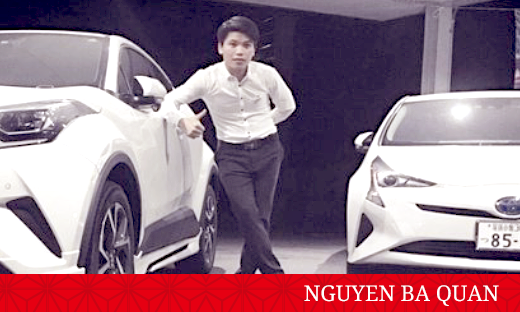 | | |
| --- | --- |
| March 2014 | Japanese Language Course, Graduated |
| March 2015 | Completed |
| April 2015 | Nakanihon Automotive College, Enrolled |
| April 2017 | Toyota Corolla Aiho Co. LTD. , Employed |
No matter what occurs, Do not give up your dreams
I graduated from Nakanihon Automotive college and joined the Toyota automobile company this spring. I love automobiles very much and came to Japan with the dream of working at Toyota. When I lost my way towards my goal, the teachers were always there to kindly advise me on what to do. While taking a new path, the most important thing to remember is not to give up your dreams, no matter what occurs. Taking advantage of the knowledge I learned during my time at Kurume Seminar and through gaining lots of experience, I will do my best towards building my new dream.
MAI TON CAT TUONG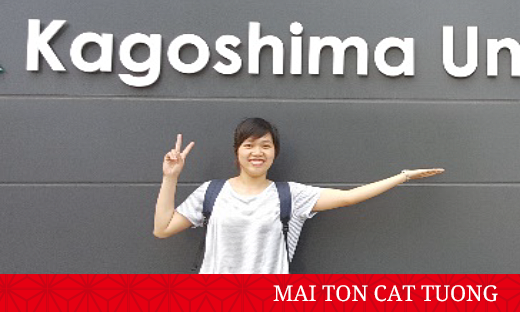 | | |
| --- | --- |
| March 2015 | Japanese Language Course, Graduated |
| March 2016 | International Student Career Design Course Completed |
| April 2016 | Kagoshima University, Enrolled |
Kurume Seminar "My Second Family"
My aim when I first came to Japan was to enter in a National University here. I studied very hard for this. In order to study a language different from your own mother tongue and compete with native speakers, you need to work harder than the others. Apart from the studies, I also had difficulties with my living situation, which often left me feeling frustrated. At that time, I was touched by the support of the teachers telling me not to give up my dreams and work harder. The teachers also supported me mentally during my decision in choosing a university as well as my predation for the entrance exams. That made me feel like they were family to me. Today, I am thankful for all of the support that my family in my home country and here at school, "My Second Family" have given me throughout my experience.
MAHARJAN KABIRAJ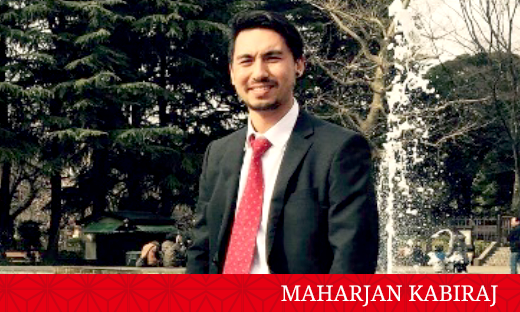 | | |
| --- | --- |
| March 2014 | Japanese Language Course, Graduated |
| March 2015 | International Student Career Design Course Completed |
| April 2015 | Japan Electronics College, Enrolled |
| April 2017 | Alps Business Service Corporation, Employed |
To aim Higher, one's foundation is the most important aspect.
I entered Kurume Seminar in April of 2012. At first, it was full of many difficult situations, but thanks to the kindness of the teachers and their support, it made me feel comfortable and allowed me to study hard. The memories of the naturally beautiful Kurume is still remaining in my mind. I cannot forget anything about Kurume. If a person wants to fly higher, he needs to start with that initial step forward. The first step for me was going to Kurume Seminar. If you have a good base to start with, you can reach up a lot higher. Kurume Seminar is the place where you can make a great foundation for basic Japanese language and communication skills. I believe it was good for me that Kurume Seminar taught me a lot of importance on building up my knowledge in and out of the classroom.
BUI THI HUONG LAN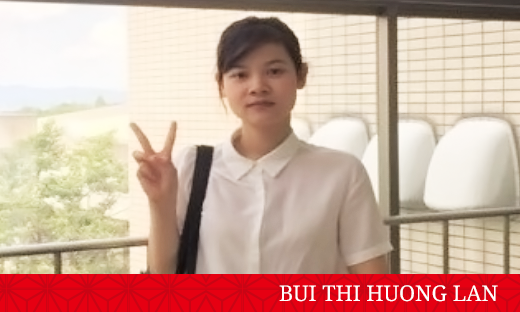 | | |
| --- | --- |
| March 2016 | Japanese Language Course, Graduated |
| April 2016 | Nagoya University of Economics, Enrolled |
When I was worried about my future studies, I talked to the teachers several times and made my decisions based on those talks. Presently, I am spending an enriched university student life.
Time passes so quickly. It has been 2 years since I have graduated from Kurume Seminar and enrolled in Nagoya Economics University. Now I am studying hard everyday with an open mind. When I came to Japan, I also learned about the social and cultural customs along with the Japanese language. The teachers were very enthusiastic and taught me kindly. While learning Japanese, I was able to make life plans with the help of my teachers. My aim was to pass the N3 or N2 within 6 months, and it helped that I got a lot of homework, and necessary papers frequently in order to improve my skills. In addition, teachers managed class tests and practice questions everyday to check whether we could do things properly. My dormitory life for 2 years was peaceful and it was a suitable environment to concentrate on my studies. Thankfully, I was able to get a scholarship from the Japanese government. And when I was worried about my future studies, I consulted with the teachers over and over again, and they helped me to practice for my interviews. I am filled with gratitude.
Now, I am spending an enriched student life. I will continue to do my best trying to get a job in Japan.
SHARMA RICHA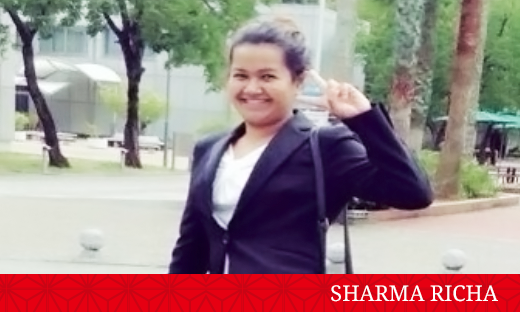 | | |
| --- | --- |
| March 2014 | Japanese Language Course, Graduated |
| March 2015 | International Student Career Design Course Completed |
| April 2015 | Kochi University, Enrolled |
Learning in Kurume seminar, my insights spread out widely each and everyday
I studied in Kurume seminar for 3 years. Meanwhile, I was able to meet various people and was able to experience various new things. The teachers instructed with enthusiasm for the students, and the support was also thorough. I enjoyed my school life in a bright atmosphere with people who came from various Asian countries. I could speak only a little Japanese before coming to Japan. After I joined Kurume Seminar, I learned English from a beginner level, which developed my confidence to speak in Japanese and improved my conversation skills at the time of graduation. In addition to the Japanese language, we got support for our careers and I was also able to learn about Japanese culture, and various ways to interact with people from different cultures and backgrounds, every day. I was able to express my insights freely. Presently, I am a 3rd year student in Kochi university. I heartily thank the teachers of Kurume Seminar who taught me the Japanese language and made me into who I am today.
GAN QUAN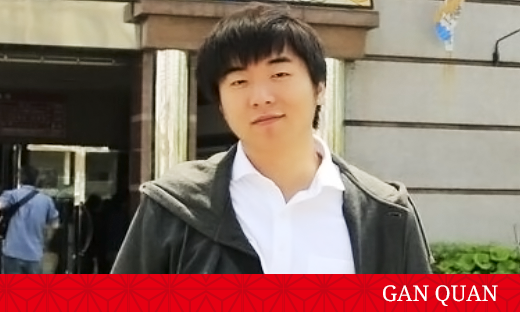 | | |
| --- | --- |
| March 2013 | Japanese Language Course, Graduated |
| March 2014 | International Student Career Design Course Completed |
| April 2014 | Naruto University of Education, Ph.D. degree, Enrolled |
Secured Full marks in N1 of JLPT
In order to secure full marks on the N1level of the JLPT, I think a strong will is necessary, just like the mountain climbers have when they are aiming for the summit. Studying seriously is not just simply taking several hours each day, but deep research is also necessary. For example, particles and conjunctions are important, so no matter how many words or grammar points you memorize, if you can not use them correctly, you will only be able to speak Chinese-like Japanese. At the end of China's rule under Manchus, for the very first time Japanese particles and basic sentence patterns were clarified in the book "東語正規". Why do the students now ignore the most important parts, particles and conjunctions ? The reasons for the Japanese language students who are unable to pass the N1 quite easily is not because of insufficient efforts, but because they have a weak foundation. Although the preparation practice lessons are effective, you will not be able to do well without knowing the basic knowledge. If your communication skills are not effective even if you are doing your best, you might need to try issuing a beginner's book of Japanese and go back to the basics. Perhaps the answer may be in there. As for the preparation for the N1 of JLPT, I studied the principles and answers continuously for 15 days. It was depressing when I thought of the difficulties, complexities and not getting the answers correctly. However, you must continue to do the work in any case. Learning will be fun when you will overcome the difficulties. Thankfully, I was able to secure full marks in the N1 of JLPT.
ZHEXING WANG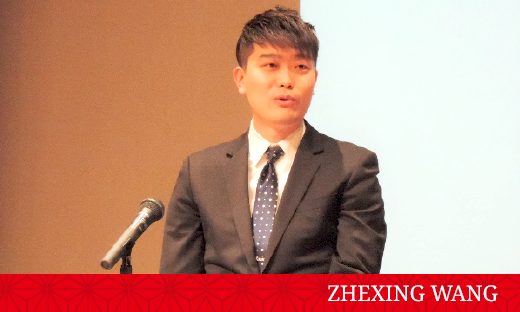 | | |
| --- | --- |
| March 2013 | Japanese Language Course, Graduated |
| April 2013 | Fukuoka University, Ph.D. degree (1st Semester), Enrolled |
| March 2018 | Fukuoka University, Ph.D. degree (2nd Semester), Completed |
| April 2018 | Yokogawa Solution Service Corporation, Employed |
My journey while studying abroad
Honors during my time in the Japanese Language Course
2011
"Speech Contest" 1st Place
2012
"Debate Competition 1st place" Awarded
"Scholarships for International students in Japan, Government of Japan" Received
"Kurume Seminar Japanese Language Course Scholarship" Received

Q1:What was your purpose to study in Japan ?
While I was studying in the faculty of engineering at university in China, I was interested in research papers on the chemical process management of Japan. The professor of that research department also had the experience of studying in Japan and suggested to me to try and study in Japan. After that, I got motivated to study in Japan and I wanted to do research about Japan. So I came to Japan.
Q2:What was the good things about studying in Kurume Seminar ?
The first stage for me studying abroad was at Kurume Seminar. I learned various kinds of things in addition to Japanese Language. Through the group work with teachers and other students, I reviewed my ways of thinking's and learned the correct attitude towards studying abroad. Apart from the Japanese language classes, the attractive point of Kurume seminar is it makes us think about the value of "Studying Abroad". The time I studied in Kurume Seminar is one of the most precious times during my time in other countries and also became a turning point in my life. Looking back now, I feel like I was fortunate to be there.
Q3:Tell us about your favorite impressions of Kurume Seminar
The fun times during the drama presentation with my classmates are some of the most memorable moments. It was fun to perform in front of everyone, writing the story and dialogue as well as making the props. The days I spent learning Japanese and working hard preparing for university were also unforgettable.
April 2013 
Fukuoka University, post-graduate course, Admitted

Academic Achievements during post-graduate course

| | |
| --- | --- |
| 2016 | Fukuoka University Special Research Expenses, Selected |
| 2014~2017 | Fukuoka University, privately financed international students scholarship, Received |
| March 2018 | Doctor of Engineering degree |
Q4:Did you get advice from teachers while advancing to post-graduate course in University ?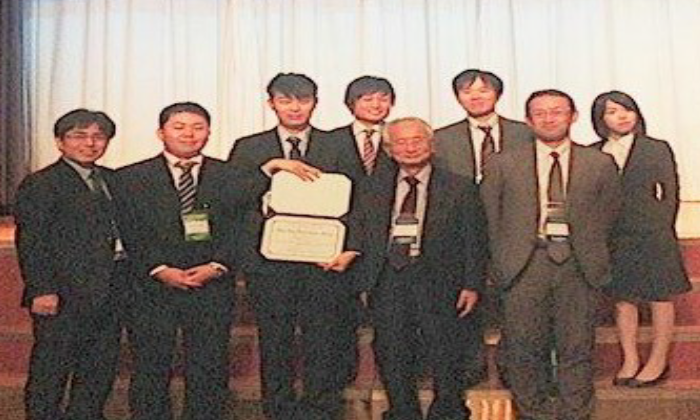 While writing the research plan and purpose of study, the teacher in-in charge instructed me in details everyday. The sentences were reined several times, by which I was able to improve my vocabulary, power of expression and ability to think. In addition, I learned how to interact with Japanese people, accept ideas and the skills for the interview. There are still useful today.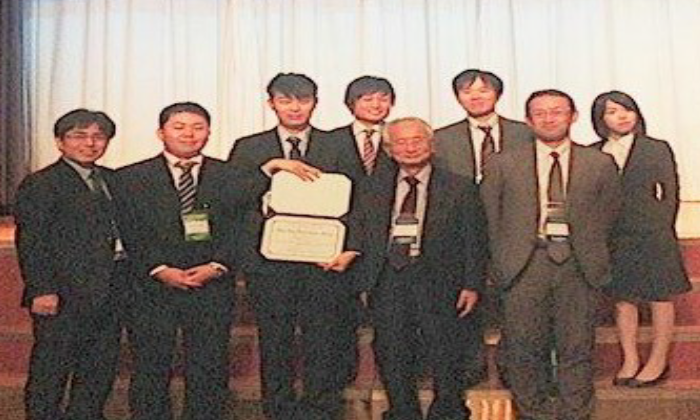 Q5:What are you learning in the post-graduate course?
I think it is better to say "research" rather than "learn" in the post-graduate course. I will be able to polish my knowledge and sense of specialized fields. Also, to convey my opinions as a researcher, writing power and presentation power for an internationally acceptable research paper. By conducting researches, I will be able to polish myself and discover a new oneself. I think it is a very precious place and opportunity for international students to go out in the society.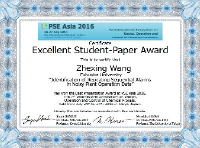 1

:

:
2015 "Best Oral Presentation Award", ISChE 2015
2

:

:
"Excellent Student-Paper Award", World's Top International Conference PSE ASIA2016
This paper was published as the best research paper in "Journal of Chemical Engineering of Japan""
April 2018 
Yokogawa Solution Service Corporation, Employed

After the completion of my course, I would like to become a member of the human resource staff for the Research and Development department of my field, using the sense and know-how that I have mastered till now.